I love to shop. For anything really. Even groceries. And office supplies. There's something about picking out the perfect super cool Post It notes that gets me excited. No icky yellow standard ones for this girl.
But, when Chris and I took over wedding finances last May all shopping came to a complete halt. Cold Turkey. If it wasn't wedding related or vital to our surivival we didn't buy it.
But now the wedding is over ::insert evil laugh here::
It's Chris' fault really. He wants to take his dress up a level. No more t-shirts for this husband of mine (THANK GOD!). We hit Macy's on Saturday and Chris discovered the beauty that is English Laundry (is that what it's called?). The details are to die for. The buttons, the lining, the stiching. I'm so happy for Chris!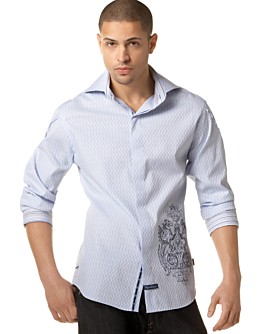 I was so good. Didn't buy a single thing. Mostly because the Sherman Oaks mall closes at 7:00 pm. That's the most ridiculous closing time for a mall I've ever heard.

But then he wanted to go to Nordstrom Rack. We'd never been, so I thought I'd give it a whirl. I had taken the day off yesterday because I have to work on Saturday. And Chris' flight to Milwaukee was cancelled (yeah!) due to snow. So we were given a free day by the universe. Chris bought nothing. I accidently shelled out $200.

But I picked up an Elie Tahari dress that I want to move into. Forget other clothes. I could live in this thing for the rest of my life.
Originally $398, I snapped it off the rack for $99.50. It's much snugger and sleeker on me and I don't think I'll rock the belt because it looks funny. The sleeves are my favorite part!
Also, last night, I accidently typed in "ebay.com" and "manolo blahnik 36". There are Manolos going for under $200!!!
I sense an issue bubbling.