I plan on cleaning a lot of house while Chris is on the road. Yes, he's leaving his wife of 15 days for longer than we've been married. Missing our first Valentine's Day and our first monthiversary. sad. But I'm going to be super productive.
I'm going to complete the following -
1. Write Thank You Notes
2. Write vendor reviews
3. Get rid of all the mess in our condo
4. Get rid of all the mess in our garage
5. Write down all my thoughts/feelings in this here blog from the wedding through the honeymoon.
6. Get my body back to California time.
7. Lose the honeymoon weight.
8. Get on the road to learning to cook.
9. Clean out the DVR.
It's all about getting things done. Packed Away. Finalized. Cleaned out. Fresh. New. Started.
And I'm starting with my head.
Tomorrow the hair is getting whacked!
My hair is currently the longest it's ever been in my entire life. I feel like it overwhelms me a bit. My hair is wearing me.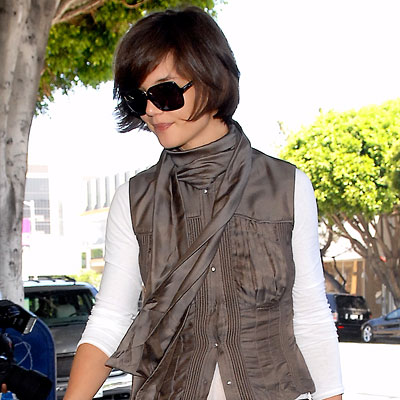 I loved that cut the day I saw it but I knew I wanted to be an updo bride. I seriously considered making an appointment on Monday before we left for Thailand. But then I remembered about humidity and how my hair turns from nice to fro in 2.3 seconds. Seemed like a bad idea. Then I thought about whacking it in Thailand. But I couldn't find a place that didn't give me the heebeejeebees. So tomorrow, Day 1 of the lone wife disaster clean up extravaganza, I'm cleaning up my head.