Do-It-Yourself. Poop. Here's the thing... I want our wedding to be special. I want it to be unique. I want it to be US. And putting my own special and unique touches make what could be an over the top great day for big business, makes it suddenly homemade.
I WANT to spend the hours upon hours of time, blood, sweat, tears and lots of love on our wedding. Well, at least I think I want to spend this time, blood, sweat, tears and love on our wedding... until I actually have to do it.
I've currently spent hours upon hours making a cake topper for our Rehearsal Dinner Cake. I saw some clay figurines of the bride and groom that I LOVED on my local Knot board. (p.s. I'm obsessed with the Knot). I knew they wouldn't be formal enough for our wedding cake, but I want to have a super fun Rehearsal "Dinner". The "" are because I'm not sure I want it to be a "dinner" but more of an "outing". Perhaps some bowling in a VIP room with appetizers, bar, cake, etc. More on that later.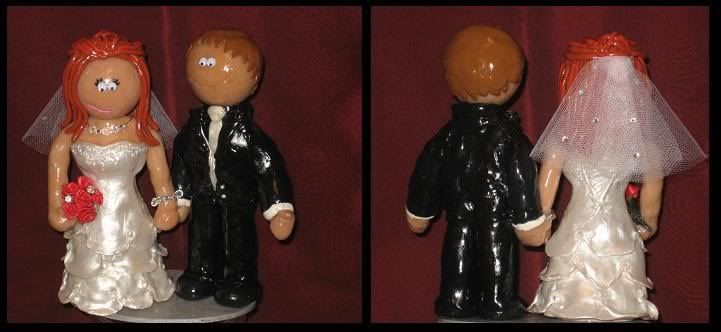 *Knottie Daschie84. Her DIY goodness is inspiring

I'm currently down LOTS of money on clay. LOTS of hours on trials. I have 6 figurines. 1 is headless. 1 looks like a snowbeast. 1 looks like Andre the giant. 1 looks like a man (she's supposed to be a woman). Then I got one right!!!! WOOOO. I love her. Man #3 is currently in the works. Keep your fingers crossed.
Photos to come soon!
*The 40-Year-Old Virgin